Overview of the Seanad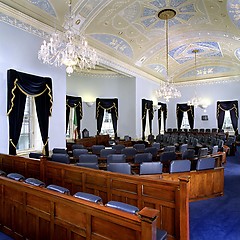 The Seanad is the upper house of the Oireachtas (parliament), and comprises of 60 members - 11 of whom are appointed by the Taoiseach, and 49 of whom are elected.
Forty-three are elected through a number of vocational panels (eg agricultural, labour, public administration). Three are elected by the National University of Ireland and three by the University of Dublin (Trinity College).
The election for the Seanad must take place within 90 days of the dissolution of the Dáil - and a general election for the Dail must take place within 30 days of the dissolution of the Dáil, so there are usually about 60 days between the Dáil and Seanad elections.
Seanad Reform
I very much welcome the result in the Referendum on the future of Seanad Eireann (4th October 2013), in which the proposal to abolish the Seanad was defeated. I am delighted that the people have voted to retain the Seanad. I campaigned actively for a No vote (to retain the Seanad). I believe that the role of an upper chamber can be an important one within the legislative process, but to be more effective, complete reform of the Seanad is needed.
I have spoken extensively on the need for Seanad reform over the years; most recently on the 24th february 2014. In particular, I support the introduction of legislative change, to provide for:
Expansion of the electorate for the University panels to include other third-level institutions;
Reform of the Seanad vocational panel electoral process to give citizens a real voice in who is elected.
With these and other legislative changes, the Seanad could become a more democratic and representative structure and could play a more effective role in our legislative process. Ultimately, I would favour constitutional change to enable more radical structural reform of the Seanad. In the meantime, I will continue to play an active role as one of the Senators with the best speaking and voting records in the chamber – and with a strong record of introducing private members' legislation over the years.