Pensions (Equal Pension Treatment in Occupational Benefit Scheme) (Amendment) Bill 2016: Second Stage 22 March 2017
Posted on March 23, 2017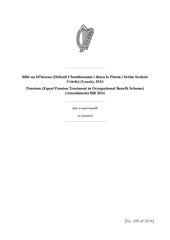 Senator Ivana Bacik: I move: "That the Bill be now read a Second Time."
I am delighted to be here to propose this Bill. I welcome the Minister for Social Protection, Deputy Leo Varadkar, to the House. I have received an indication from the Government that it will not be opposing this Bill on Second Stage. I am very grateful for and delighted about that news. I acknowledge the presence in the Visitors Gallery of Dr. David Parris and Mr. Gerhard Scully and I thank them for being here to support the Bill and for their bravery and courage in raising publicly the important equality issue it seeks to address. The Bill is the Pensions (Equal Pension Treatment in Occupational Benefit Scheme) (Amendment) Bill 2016. I am delighted to be proposing it on behalf of Labour Party Senators. My colleague, Senator Ged Nash, will be seconding it and Senator Kevin Humphreys will be speaking on it. We are putting it forward as a Labour Party Private Members' Bill. We acknowledge the legal expertise and help provided on the Bill by our drafter, Mr. Finbarr O'Malley, and also by Professor Robert Wintemute of King's College, London, who has given us some very important legal input on the Bill. I also acknowledge the support of Ms Marguerite Bolger, senior counsel, who acted in the legal case that forms the impetus for the Bill.
Let me outline the background to the Bill. It seeks to address the very small number of cases in which retired employees who, because of their sexual orientation, were not legally permitted to marry the person they desired to marry before a particular date were deprived of certain pension or survivor benefits as a result.  It was drafted, as I have said, in response to a particular case which I know the Minister is aware of, namely, the case of David Parris v. Trinity College Dublin before the European Court of Justice. Judgment was given on 24 November 2016. In that case, David Parris had argued that the Trinity pension scheme was discriminatory as it provided that a Trinity employee's partner would only be entitled to a survivor's pension where the employee had married or entered a civil partnership before reaching the age of 60. The Bill seeks to address the issue that arose in that case. It will provide that if a pension scheme makes a survivor's pension entitlement dependent on the employee having married or entered civil partnership before a certain age, this would breach the principle of equal pension treatment on the sexual orientation ground where the reason the employee did not comply with the requirement was because he or she was legally incapable of marrying prior to the entry into force of civil partnership law.
Before I turn to the provisions of the Bill I will outline the facts of the Parris case in a little more detail. The applicant had been living for over 30 years in a stable relationship with his partner. His employer's pension scheme provided for the payment of a survivor's pension to the spouse or civil partner of a member. However, the survivor's pension was payable only if the member had married or entered into a civil partnership before reaching the age of 60. 
This is a clause sometimes referred to as an anti-gold digger clause, essentially based on a very sexist stereotype prevailing in universities at the time but hopefully no longer. The idea was that a younger woman, perhaps a student, might marry or seek to marry an ageing male lecturer in order to gain access to his lucrative pension entitlements upon his death. I am no pensions expert but I understand it is not a commonplace clause. It is an unusual clause because it precludes entitlement unless marriage or civil partnership was entered before a particular age. It appears to be premised on that rather bizarre notion.
It caught Mr. Parris and his spouse in this case because he was not legally able to enter a civil partnership or marry prior to his 60th birthday. As a result, the survivor's pension was denied or it was predicted that it would be denied in the future to his spouse. He retired in 2010 and made a request to Trinity at that point that on his death his then civil partner, now spouse, would receive a survivor's pension. That request was rejected in November 2010. His appeal to the Labour Court was referred to the European Court of Justice, ECJ, which is where the EU law case arose. However, while the EU court found against Mr. Parris, it did not preclude national law changing the position. That is an important point. Paragraph 59 of the Parris judgment states, "Member states are free to provide or not provide for marriage of persons or alternative form of legal recognition, and if they do so provide, to lay down the dates on which such marriage or alternative form is to have effect." While the court did not find in favour of Mr. Parris under EU law, there is nothing in the judgment that precludes us from making this legal change to our law. There was a very strong advocate-general opinion on the 30 June 2016 in support of Mr. Parris's claim. I understand there is also currently litigation in the UK Supreme Court on a similar point.
To turn to the provisions of the Bill, the Title provides it is a Bill to amend the provisions of the Pension Act 1990 and so on. Section 1 provides, crucially, that Part VII of the Pensions Act 1990 is amended in section 72. It inserts a new subsection (5) which says, essentially, that it would be a breach of the principle of equal treatment on the sexual orientation ground for a scheme to fix a requirement that employees would have married or entered civil partnership before a certain age in circumstances where persons were unable to do so because they were not legally entitled to marry because they were in a same-sex relationship. 
A further clause has been inserted into subsection (5), stating that the employee must have married or entered into a civil partnership with the beneficiary, the potential survivor, within three years or 36 months of it being lawfully possible to do so. We have put that in on the basis that we understand a reasonable time should be provided for, that people would have had to marry or enter civil partnership within 36 months of it being legally possible to do so in order to avail of the exemption from the clause.
There is a standard form section 2 as well.
These are the sections of the Bill currently before the House. I was pleased to be able to meet with some officials from the Minister's Department and the Department of Public Expenditure and Reform. We are happy to continue to engage with the Minister and officials to improve upon the drafting and to amend the Bill, if required. We have already discussed that.
I want to deal with two particular points that have been raised with me by way of potential objection to any further progress of the Bill. First, the issue of retrospectivity and, second, what I call the floodgates issue: that there would somehow be a large number of people who would seek to benefit from this Bill. On the retrospectivity point, which was also raised in the European court, it must first be acknowledged that all pension entitlements, and particularly survivor benefits, are to some extent retrospective since they do look back at contributions made during employment. However, this Bill is not retrospective in any real sense, and certainly we say it is not of retrospective effect. I am grateful to Professor Wintermute for giving his legal opinion which I am happy to supply to the Minister and his officials. In this particular case, it is not a retrospective application, as David Parris is still alive-----
Senator David Norris: He is not dead yet.
Senator Ivana Bacik: Precisely. I thank Senator Norris for his comment and his support. 
  David Parris does not seek recognition of his relationship prior to 2011 when it was possible to be legally recognised in civil partnership, he only seeks prospective recognition following his death, which hopefully will be many, many years away. It is not in any sense retrospective in his case, nor do we say is it retrospective in any general sense because it does not provide for survivor's pensions for same-sex partners of employees who died before 2011 and who were therefore never able during their lifetimes to enter a civil partnership or a legal marriage. It simply provides a temporary exemption for lesbian and gay employees from this particular rule that they must have entered a civil partnership or marriage before they turned 60. The exemption applies to employees who were legally unable to enter a marriage or civil partnership at the time they turned 60 and it gives them this small window of 36 months or three years to do so from 2011. We understand that there will be people who will not be able to avail of it, who were unable to enter civil partnership or marriage but who simply are not caught by that provision. Some, for example, may have entered a civil partnership between 2011 and 2014 and then died. The effect of the exemption is to make the rule that the employee must enter civil partnership or marriage either before his or her 60th birthday or within three years of being able to do so legally.
  There is a strong legal argument that the exemption is required by a judgment of the European Court of Human Rights, ECHR, which has also ruled on this. While David Parris's case went to the ECJ, there is further case law from the ECHR under the convention. The case of Taddeucci and McCall v. Italy in 2016 involved a family member residence permit for a non-EU citizen. I would argue, as Professor Wintermute has argued, that it would suggest that this exemption is required, namely, that same-sex couples who are legally unable to marry must sometimes be treated differently from unmarried different sex couples who are in a different situation because they are legally able to marry. 
  The reason I raise that case is because of the floodgates argument. It has been suggested to me that one reason to oppose the Bill might be because there would be a large quantity of persons in other categories who might seek to avail of it, for example, opposite sex couples who simply did not get around to getting married before they turned 60, and then their spouse is then unable, of course, to get the survivor's benefit. Can they then seek to avail of an exemption? I argue they cannot. Taddeucci and McCall v. Italy says they are in a different position. They were legally capable of getting married. Just because they did not choose to do so at the time or did not get around to it does not mean they can avail of an exemption. Similarly, just because people were single until they reached 60, and only met their life partner after the age of 60, clearly they too cannot avail of an exemption like this because it will only apply to those who were legally incapable of marrying before that time.
  We did try to think of other groups of people who might have had legal incapacity to marry, but we cannot think that there is any other group to whom an exemption like this could be applied. There are rules governing capacity to marry based on age, blood relationships and so on, but they are in a different league and there is no change to those capacity rules.
  There is one further floodgate argument that has been raised with me, which is that there may be quite a number of other gay couples who are in a similar position and would be able to avail of the exemption. Without being an expert on this, I understand this is not a commonplace clause and that there could only be a small number of couples who would be in a position to avail of it. I understand the Department of Social Protection is doing some work in terms of demographic breakdown to see how many couples could potentially avail of this were such a clause to be in place.
Senator David Norris: Look at the number of marriages. It is quite small.
Senator Ivana Bacik: There are a number of ways of doing it. When the Bill progresses further we may look at that. Even if there are more than a handful of couples, and I really do not think there will be, I do not believe that would be a reason to deny what is an important equality right.  I see this Bill as a legacy Bill. It deals with a legacy of discrimination against gay couples and gay people. It is an important way of clearing up an anomaly in pension law that exists now despite the fact we passed the referendum in 2015 with such a strong majority. Despite the fact we now have equality for same-sex couples, we still have a legacy of discrimination that is based on archaic age restriction clauses in some occupational pension schemes. This Bill simply seeks to address that tiny but important anomaly. As I said, this Bill is based on an important equality principle. I urge Members to support the legislation. I thank colleagues who have indicated that they will support the legislation on a cross-party basis.
...
Senator Ivana Bacik:   I thank the many Senators who spoke to the Bill. I thank Senators Gerald Nash and Kevin Humphreys, who seconded the Bill, and Senators Ray Butler, Catherine Ardagh, Victor Boyhan, David Norris, Fintan Warfield, Lynn Ruane, Máire Devine and Alice-Mary Higgins for expressing their support for it in such strong terms. I think everyone acknowledged the bravery of David Parris and his husband, Gerhard Scully, in taking the case and bringing the issue to wider attention. I reiterate that acknowledgment.
  I thank the Minister for Social Protection, Deputy Leo Varadkar, for his generally positive response to the legislation. I thank him for acknowledging the track record of the Labour Party in delivering measures aimed at achieving greater equality. Like Senator Gerald Nash, I should have mentioned that a legacy Bill in the Senator's name, Convictions for Certain Sexual Offences (Apology and Exoneration) Bill 2016, is before this House. That Bill seeks to ensure people with convictions from the time homosexuality was a criminal offence will have them expunged from the record. We hope to make progress with that Bill.
  I pay a particular tribute to Senator David Norris in this context. Senator Lynn Ruane reminded me that Senator David Norris had tabled an amendment to the Finance Bill to seek to deal with David Parris' case. Obviously, he has been a tireless worker on these issues during the years.
  Senator Gerald Nash accurately described the Bill as dealing with "unfinished business". It is about trying to find a way forward to deal with the legacy of continued discrimination.
  I want to address a couple of key points raised by Senator Ray Butler and the Minister by way of partial objection. I acknowledge their general support for the Bill and the principle on which it is based and thank them for that support. I am concerned, however, that both of them referred to the possibility of small pension schemes taking action on the basis that bringing new people within the provisions of such schemes will impose additional costs on the members of these schemes. Frankly, that is a spurious argument. The same argument could be made against a group of employees who organise a Lisdoonvarna-type dating festival, aimed at employees in their 50s who are close to the age at which they have to be married in order that their spouses might benefit from these arrangements, if that results in more people coming under a pension scheme. It is clear that pension schemes with these age restriction clauses have to take the risk that as people approach the age of 60 years, they will get married in a rush in order that their spouses might benefit. I do not agree that action can be taken by existing trustees or stakeholders in a small pension scheme when something results in more people becoming eligible to claim spousal benefit.
  The Bill does not seek to abolish the age restriction clause in general. I acknowledge the point made by Senator Alice-Mary Higgins which was accepted by the Minister that there is something rather offensive about age restrictions in a general way. That is an issue for another day. The Bill does not undermine the existence of age restriction clauses. It simply seeks to create a small temporary exemption. As the Minister said, the 36-month window provision seeks to ensure the effect of this legislation will not be fully retrospective. It will be capable of allowing exemptions for a very small number of people only.
  That brings me to the retrospective point more generally which we have tried to address through the 36-month provision. I am very familiar with the provisions of Article 15.5.1° of the Constitution. I represented the State in a case in the past, arguing for legislation to be applied retrospectively. As we succeeded in that case, it is not an absolute principle. As a result, sex offender registration provisions can be applied to people convicted prior to the entry into force of the Sex Offenders Act 2001. There are exceptions to the non-retrospectivity principle, even in criminal law where it is at its most robust. We have to look at the retrospectivity point. I do not see it as precluding us from bringing forward legislation of this type because there are ways around it.
  Just because the European Court of Justice has stated there is no discrimination in EU law does not mean that we cannot say there is discrimination in our law in the case of same-sex couples. I think anyone would say the reality is that patently there is discrimination. As people were unable to get married, they were blocked in their spouse achieving survivor's benefit because of the age restriction.
  I take the Minister's point about the need to engage with his officials. I will be very happy to do so. With my Labour Party colleagues, I will be delighted to engage with them to see how best to make progress with this principle. We are not wedded to the exact provisions included in the Bill. We would be very happy to amend them. I have a good track record in working with officials in other Departments to have Private Members' legislation passed and would be happy to consider an amendment to the social welfare and pensions Bill as an alternative route. I am not sure whether the Labour Party group in this House can conduct a regulatory impact assessment without the support of the State. The Minister would have more resources to undertake such an assessment and we will be happy to work with him in that regard.
  I thank Senator Fintan Warfield for pointing me to the parliamentary question tabled by Sinn Féin on the existence of age restriction clauses. It is helpful to know that the State does not have this information. This makes it hard to assess the numbers involved. I know that the Minister intends to do this in another way by looking at demographics. Clearly, that might be a much bigger figure than the number who might actually be caught by the age restriction clause. We do not know how many of these clauses there are. We will have to work together to consider how best to establish the impact required. We all acknowledge that while the number of people affected by this problem is small, it is hugely important as an equality issue for individuals and couples such as David Parris and Gerhard Scully for it to be resolved.
Senators have spoken eloquently about the need to acknowledge the change that has taken place in Irish society by moving towards a more inclusive and equal recognition of loving partnerships. It was put very eloquently by Senator David Norris when he said "marriage is not equal as long as this anomaly arises" in our law. That is true. Senator Fintan Warfield has made the point that we need to give effect to the wishes of the people, as expressed in the referendum in 2015. I suggest bringing through this sort of legislation is a way of respecting the decision made by the people two years ago. I think everyone acknowledges that this an important legacy issue. I ask the Minister and his officials and the officials in the Department of Public Enterprise and Reform to work with us to make speedy progress in bringing the Bill through the Houses.